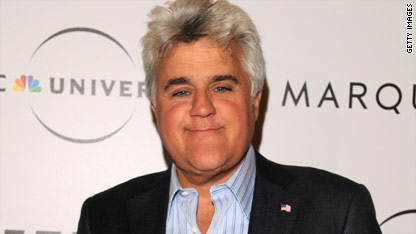 Will Ferrell said that he "may have a sore throat" should Jay Leno ask him to come on "The Tonight Show" appearance, but it appears that Leno isn't hurting for guests.
Over at the Backstage with Bryan blog on "The Jay Leno Show's" Web site, the guest list for Leno's first two weeks back on "Tonight" has been revealed, and it's quite a mix of names.
His first night back in the 11:30 time slot on Monday, March 1, Leno will return to his seat behind the desk for sit downs with Jamie Foxx and Olympic Gold Medal skier Lindsey Vonn, plus a musical performance from Brad Paisley.
Tuesday night brings both Sarah Palin and Winter Olympics star snowboarder Shaun White; Wednesday will belong to the most decorated American Winter Olympian of all time Apolo Anton Ohno, comedienne and E! personality Chelsea Handler as well as the cast of "The Jersey Shore"; and Thursday's lineup includes Oscar-nominated director Jason Reitman and Matthew McConaughey (with or without his shirt, only time will tell).
Leno will wrap up the week with Morgan Freeman and Meredith Vieira.
What do you think of his first week back? Can this lineup help him get the ratings he once had as host of "Tonight?"