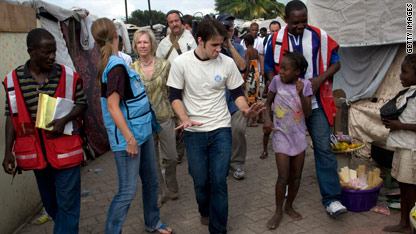 testing captions
"American Idol" season eight winner Kris Allen returns to the "Idol" stage Thursday night for a good cause.
Allen traveled to earthquake-ravaged Haiti as part of the philanthropic "Idol Gives Back" program and returns to the show to share footage of his experience, as well as perform.
During a media conference call on Monday, Allen said he had some lasting memories of volunteering in the country – especially the resilience of the Haitians.
"I got to sing a song for them and hold a couple of babies," said Allen, who sang "Amazing Grace" for some of the survivors. "They just seemed so happy. It was a really cool experience."
Returning to the show that made him a star is "nerve-racking," he said, but he is happy to be involved with such a worthy cause.
"Every time I was on that stage last year it was about me, but for this it's not," said Allen, who participated in mission trips with his church before he entered the "Idol" competition. "This feels like a really good thing to come back for."
Allen said he had planned to participate in the star-studded Haiti telethon, but at the last minute received an even better offer.
"I was walking into the offices at [management company] 19 [Entertainment] and Simon Fuller walked up to me said 'How would you feel about going to Haiti?' " Allen recalled. "I owe all this to him, that I was able to go and actually do something. [The telethon] raised so much money and was really moving as well, but to get to go there and talk to the Haitians and see what the U.N. is doing was really great."
Allen said that he hopes to impart to "Idol" viewers that there is still so much work to be done in the impoverished nation.
"This thing is not going away," Allen said. "They need so much help right now, and when I say 'help,' I mean they need a lot of money right now."
Officials said the funds will go to the United Nations Foundation Fund for Haiti to provide food, shelter, sanitation and help for rebuilding the tiny country.
Watch the "Idol" performances on Tuesday and Wednesday night, as well as results night on Thursday, with CNN. Lisa Respers France will be blogging live during the show.