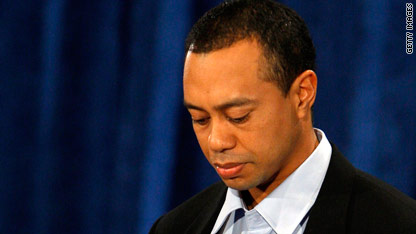 Shortly after his public apology Friday, the majority of posts on Twitter regarding Tiger Woods seemed to be less-than-empathetic, to say the least.
However, Twitter's more notable users - including Eve and Mandy Moore - had a different take on the former golf pro's plea.
"Whatup ya'll... Don't ya'll think they should leave Tiger Woods alone. He's human, what the hell," Eve wrote. "He didn't handle the media right but whateva. The only appology he ows is 2 his wifey…"
Mandy Moore posted "very honorable words from tiger woods. good for him..."
Jill Marie Jones encouraged followers to forgive Woods for his mistakes.
"Bout to watch Tigers speech! Lets NOT put that man on THE CROSS! We all make mistakes & if his wife can FORGIVE him, them WHY cant we?" she wrote.
Another Tweet came from Reagan Gomez, who posted, "Why does Tiger have 2 apologize 2 US? He didn't cheat on us. He didn't lie to us. He's famous and rich from Golf, not from marriage advice."
But Perez Hilton is one famous Twitter user who didn't care much for Woods' apology.
"In case you didn't know already... Tiger Woods is a [expletive] moron!"
Hilton followed up with "Thanks for the laughs, Tiger!" before moving on to yet another controversial public figure: "What's next for Howard Stern?"