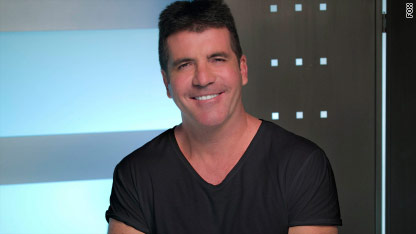 testing captions
Simon Cowell said he honestly has no idea who will replace him on "American Idol" after this year, but he has some thoughts.
During a conference call on Thursday, the departing judge said whoever fills his seat needs to have knowledge and not just the ability to be critical.
"I think over the years judges have been replaced by personalities," said Cowell, who also jokingly said his replacement needs to be very handsome. "That in the long term will create problems because you've got to be able to spot a star. So whoever replaces me, my advice has always been, find somebody who actually knows what they are talking about and has actually experienced success in the music business."
Cowell said was fairly certain that - despite rumors and reports to the contrary - Howard Stern has not been approached for the gig. The bristly Brit said he thought Stern had been pretty savvy with his approach – talking about the job on his radio show – but lacks the musical knowledge and background.
One person Cowell said he thought would be funny in the role is gossip blogger Perez Hilton.
"He's got a good taste in music," Cowell said. "He's a personality. I mean, that could work."
Cowell also addressed talk that he and new judge Ellen DeGeneres have been butting heads. He denied a report that he showed up an hour late for filming (it was more like 15 or 20 minutes, and because of a press conference, he said) and incurred the wrath of the talk show host.
Cowell said DeGeneres started judging during Hollywood week, which was tough, and he was there to offer his assistance.
"There was no fallout," he said of his tardy arrival. "I was trying to guide her through the week and that was about it, really."
He took pains to make it clear that his statement that "this person, specifically, has got to have a lot of experience in the music industry," in reference to his replacement, was not a dig at DeGeneres – whom he praised.
"She's very responsible for people she has performing on her own show, she loves music and she's been an artist."
Cowell said he does miss his buddy Paula Abdul.
"She was somebody I just got very close to over the years," he said. "We'd hang out after the show and she always made me laugh. She was very funny."
Cowell told HLN's "Showbiz Tonight" anchor Brooke Anderson that, so far, no one who has approached him personally about filling his role is a serious contender.
"I've got a couple of calls, but they were really quite boring people who never stood a chance," he said.
This year could see a woman emerge victorious as the "American Idol" said Simon, who added that he wouldn't mind "finding the next Taylor Swift."
He also would love to snag a female artist of the moment as a mentor this season.
"I think we should have Lady Gaga because she is the most relevant pop artist in the world right now," Cowell said. "And I've met her, she's very smart."
"Showbiz Tonight" will have more on Simon and his revelations on Friday's show, 11 p.m. ET on HLN.