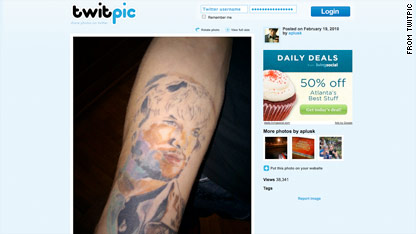 There's obsessed, and then there's celebrity obsessed. Ashton Kutcher, who is in Russia, recently sent out this TwitPic.
@aplusk said on Twitter: "I just saw something i could never imagine. a man in siberia who has me tatooed on his arm."
While the colors are a bit off, the resemblance is pretty remarkable. And if you have to have someone's face on your arm - Kutcher is a pretty choice.
What do you think - would you ever get a celebrity's face tattooed on your body? If so, who?