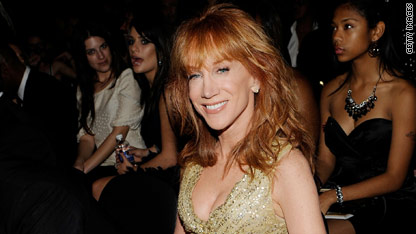 testing captions
Comic Kathy Griffin is going to be playing it straight – sort of.
The sometime profane, wise-cracking redhead is tackling a dramatic role on "Law & Order: SVU." She'll appear March 3 on an episode of the popular show portraying a gay activist who lays a lip lock on Detective Olivia Benson, portrayed by actress Mariska Hargitay.
Griffin, who has found fame mocking her status in Hollywood on her Bravo reality show "My Life on the D-List," told the New York Daily News that she approached the role very seriously and did not want to let down the cast and crew.
"My mind is programmed to go for the joke," she said. "My whole life is looking for the joke, but this was no joke. I didn't want to disappoint them."
The guest spot came thanks to the show's executive producer Neal Baer after he caught Griffin's act hosting the Creative Arts Emmys. The story goes that he vowed to create a role for Griffin that would land her an Emmy nomination ( the actress is well known for her desire to score high-profile awards and even titled one of her comedy albums "For Your Consideration" in an attempt to snag a Grammy).
Griffin told the paper she was so focused on her performance that she didn't even sweat her first on-screen Sapphic smooch.
"I was so nervous about getting my character right that the last thing I gave a (expletive) about was kissing a girl," she said.