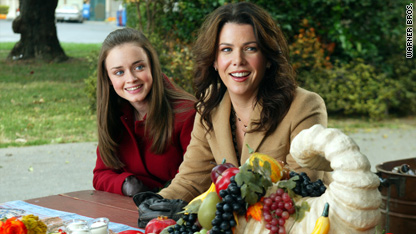 I think I had a small stroke when I read the headline on Popeater.com: "Alexis Bledel Ponders a 'Gilmore Girls' Movie." I still cannot get enough of the two Lorelais, even though "Gilmore Girls" completed its run nearly three years ago.
The show - set in fictional Stars Hollow, Connecticut - centered on a mother-daughter duo who were best friends first and parent/child second. Oh, and it was magical! Not in a wands and broomsticks sort of way, mind you; but in a "sitting on a window seat, watching snow fall, drinking hot cider (or coffee, if you're a Gilmore) and savoring a great book" way.
Series creator Amy Sherman-Paladino (a.k.a the smart American girl's hero) breathed tremendous life into her characters. For example, Bledel's character, Rory, aspired to be CNN's Christiane Amanpour, quoted Dorothy Parker (Sherman-Palladino's production company is named Dorothy Parker Drank Here Productions) and read Proust. Literature was essentially an un-credited character on "Gilmore Girls."
The plot goes like this: Series protagonist, Lorelai Gilmore, turned down a life of privilege after becoming pregnant at 16 and opted to raise her daughter on her own. At the show's premiere, Lorelai was 32, Rory was 16, and the show was about how Lorelai wanted Rory to be exactly like her, but at the same time be nothing like her. She wanted Rory to have the advantages she never had (top-notch education, world travel), but also wanted to keep her away from coming out parties, cotillions, rich snobbery and overall stuffiness. Throughout the show's seven seasons, we saw Lorelai grow from inn manager/community college student pursuing a business degree by night to proprietress of her very own country inn.
We simultaneously watched Rory grow from 15-year-old Harvard-bound prep school student, to editor of the Yale Daily News (she picked Yale after agonizing over one of her famous pro-con lists) to Ivy League graduate and reporter on the Obama campaign.
But sandwiched within those details were the elements that made the show dazzle. The quirky inhabitants of Stars Hollow were straight out of a 1940s screwball comedy (articles could be written about each one of them). Lorelai's parents, Richard and Emily Gilmore, started off in the series by funding Rory's education but wound up guiding, anchoring and nurturing both Lorelai and Rory, and always with a great sense of humor.
What other fictional TV show could nab guest stars like Madeleine Albright, Senator Barbara Boxer, Norman Mailer, and the aforementioned Christiane Amanpour?
While a "Gilmore Girls" movie is still feeding rumor mills, I wonder if it is better to just leave well enough alone. Perhaps it is best not to mess with perfection.
What about you? Would you like to see a "Gilmore Girls" movie? Or, if you weren't a "Gilmore" watcher, are there any TV shows (a la "Sex and the City") that you believe would translate well to the Silver Screen?