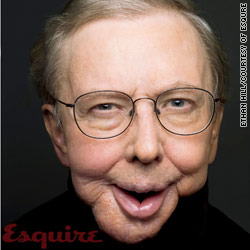 After undergoing a surgery to treat cancer four years ago, Roger Ebert was left unable to talk and missing parts of his jaw. But while he may not be able to speak, the celebrated film critic's voice has lived on through his words.
In the years since, the prolific author (and first film critic to win a Pulitzer, which he won in 1975) has come to rely on his famous thumbs and his gift with turns of phrase to communicate on the job and at home as well.
In a touching interview with Esquire magazine, Ebert expressed himself through phrases jotted on Post-It notes and a set of computer speakers wired to broadcast his thoughts as he types them into a text-to-speech program.
"When I am writing, my problems become invisible and I am the same person I always was," Ebert wrote in a journal entry, an online log that he continuously updates. His journal, he said, is saving him. "All is well. I am as I should be."
This sense of optimism is relayed in nearly every snippet Ebert offered about his post-surgery life.
He wrote on a piece of scrap paper after a passerby gave Ebert a glance filled with sadness, "There is no need to pity me. Look how happy I am."
Indeed, since losing not only his voice but also his jaw in a series of operations, Ebert has come to the conclusion that it's a crime to not at least try to contribute joy to the world.
"I believe that if, at the end of it all, according to our abilities, we have done something to make others a little happier, and something to make ourselves a little happier, that is about the best that we can do," he said. "I didn't always know this, and am happy I lived long enough to find it out."