[Editor's Note: You know the drill by now. If you haven't seen this episode of "Lost" yet, DON'T READ ANY FURTHER.]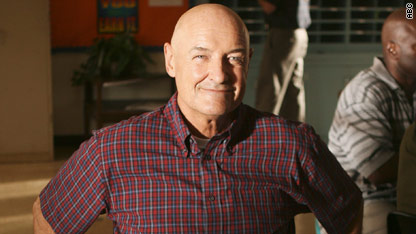 When John Locke, or rather, someone who looks like him, a.k.a. the Man in Black, approached Sawyer on Tuesday night's episode of "Lost," and promised to answer the most important question in the world, "Why are you on this island?" it was a pleasant surprise to see that we actually got the answer in the very same episode.
We've come to expect differently from the show that has trained us to expect answers ... eventually. (Even when we're told we'll get them by the producers, characters on the show, and most often, the ABC promotions department.)
But things are starting to come together on the island, and off the island, in the alternate timeline as well. Here we find that Locke (the one who's still alive and never crashed on the island) was engaged to Helen, who had long since left the Locke we know. He never went on that walkabout, and when he was fired for skipping a business conference, his company's owner, Hurley, offered him a temp position with an agency where the supervisor, Rose, told Locke to accept his lot in life. So John Locke the believer lost his faith and became a gym teacher, at a school where he met a teacher named Benjamin Linus. The idea of Ben as a teacher amuses me to no end.
It looks like these people were fated to be in each other's lives, plane crash or not. But it's still a mystery as to where this is all headed.
We got a much better idea of where things are headed on the island, however. The Man in Black had tied up Richard then offered him a chance to join up with him, which Richard, being a lifelong (?) follower of Jacob, turned down. Sawyer, on the other hand, drinking away his grief over Juliet, was game to find out the answer to that all-important question ... and pretty quick to figure out that this man is not John Locke.
Along with the Dharma orientation tape and the giant map in the hatch, the Man in Black revealing the names written inside a cave will go down as one of the big moments "Lost" fans will remember (and study closely). Some of the names on that cave wall were people Jacob had visited prior to getting on that fateful flight, and each had a number, corresponding to the numbers from the Swan hatch.
Mind-blowing stuff, indeed. One missing name, however: Kate Austen. And which Kwon is on the wall, Jin or Sun? And oh yeah - who is the Man in Black, anyway? We know he was once a real man, but has been trapped for centuries, and all he wants to do is get off that godforsaken island. But I have no doubt there's more to be learned.
Like all classic "Lost" episodes, there were so many little moments that stood out:
– It was freaky to see things from the Man in Black/Smoke Monster's point of view towards the beginning.
– Locke's funeral, with Ben admitting that Locke was a better man than he, and that he was sorry he killed him, was yet another example of why Michael Emerson won the Emmy last year.
– The Man in Black is now stuck in Locke's form? Interesting.
– Who was that kid who appeared to the Man in Black (and Sawyer, but not Richard)? A younger Jacob?
– As a candidate to be Jacob's replacement (along with Jack, Sayid, Hurley, a Kwon, and until recently, Locke), Sawyer has three choices: Do nothing, become the new island "protector," or leave the island with the Man in Black. What does this mean for the others who crashed on the island, but aren't candidates? Are we to assume that the alternate timeline is the one unaffected by Jacob? What happens if another candidate takes Jacob's place?
Share your theories about the Man in Black, why he's trapped, his motivation, or any other burning "Lost" questions on video or in the comments below. Were you as impressed by this episode as I was? In the meantime, check out what one iReporter thinks.