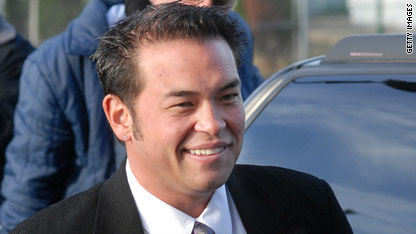 testing captions
The war between Jon Gosselin and his former TV employer has drawn to a close.
According to a statement released by Laurie Goldberg, senior vice president for communications for TLC, "TLC has reached a settlement with Jon Gosselin and will be undertaking procedural steps to conclude the litigation.  All terms of the settlement are confidential. The whole Gosselin family remain under contract with TLC. "
Such a settlement could clear the way for the return of the clan from "Jon & Kate Plus 8" to the airwaves. The show was yanked after Gosselin put the network on notice to cease and desist filming, claiming it was detrimental to his children. TLC responded with a breach of contract suit against him.
Wife Kate reportedly has her own deal with TLC for a solo show. No word on whether the original show is slated to return.
Update, 2:08 p.m. Jon Gosselin's attorney, Mark Jay Heller,  released the following statement on the settlement with TLC:
"Jon has expressed his desire to close the litigation chapter of Jon and Kate Plus 8 and although all terms are confidential, he is hopeful that TLC will move forward with the best interests of the Gosselin family.  Sometimes litigants that kiss and make up find their relationship is much better the second time around.  As Jon's attorney, I truly hope that this new adventure for TLC and the Gosselins is a much more joyful journey."