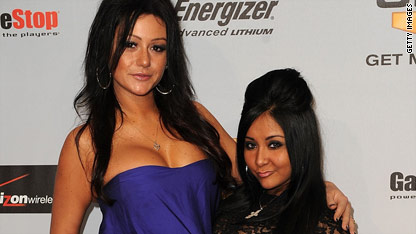 Despite all of the Italian references made on Season 1 of "Jersey Shore," some fans are surprised that not everyone in the cast is of Italian descent. Jenny "J-Woww" Farley revealed on Fox News' "The Strategy Room"  that she and Nicole "Snooki" Polizzi are the odd members out on the 'Shore."
Referring to the backlash for the show reveling in the guido/guidette stereotype – monikers considered to be derogatory to Italian-Americans – Farley said, "I'm not even Italian, so that stereotype doesn't even fit me."
Farley said she's of Spanish and Irish heritage. As for her BFF, little "Schnickers"? She's Chilean.
"Guidette is a stereotype that people misconstrued with Italians – it's a lifestyle," Farley said. "It's like the mafia – there's the Russian mafia."
If you feel like you've just been told that the earth is not quite as round as previously thought, Farley said the cast was never trying to convince "Jersey Shore" fans otherwise.
"We're not trying to imitate Jersey," she said. "We're not trying to be Italians, it's just our lifestyle. We're only trying to be ourselves."