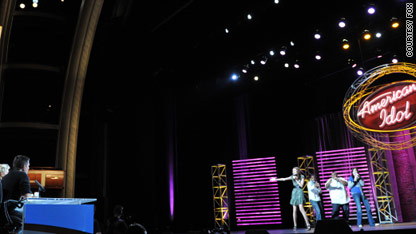 testing captions
Fox really knows how to work the suspense.
And by "suspense," I mean making two hours feel like four hours on Tuesday night when announcing the first of the top 24 contestants.
We viewers spent a great deal of time in rooms number one, two and three where wannabe contestants awaited a visit from the judges to find out if they would be moving on. Apparently, chairs aren't allowed in said rooms because everyone was sitting on the floor looking alternately glum, hopeful and stressed.
Now, if I was a contestant I'd be checking to make sure I was in the room with Andrew Garcia. I'm going to go on the record now with saying that if that dude doesn't make it into the Top 24, I am going to be lamenting it the entire season.
Back in the rooms we were treated to voiceovers from the contestants meant to impart what they were thinking while Seacrest constantly hyped the intensity of the wait. At one point I seriously thought he was going to say "Coming up, it's our most dramatic rose ceremony EVER!"
Rooms one and three made it through with the usual jumping, screaming, crying and drop-to-the-knees-in-prayerful-gratitude posture while the folks in room two got the ax. Before you could feel too happy for the "winners," you realized that all they really won was the opportunity to go sit in another room (this time with chairs) and wait to be called in to see the judges.
Then there was the very long walk down to the stage to sit in yet another chair and learn whether or not they had made it to the Top 24.
My "Most Gracious Award" goes to Shelby Dressel who took not making the cut with lots of dignity.  Jessica Furney should have taken some pointers from Shelby because the former totally lost it when she got cut.
Not only did she keep insisting that the judges just had to put her through, but when Ellen tried to offer support by telling her it wasn't the end of her music career, Jessica snapped "How do you know that?" Wow.
Congrats to "Big Mike" Lynche, Didi Benami, Casey James, Aaron Kelly,Todrick Hall, Lee Dewyze, and Katelyn Epperly for making it into the Top 24. I thought for sure cutie-pie Aaron was out because he forgot the words to his songs not once, but twice!
Were there any surprises for you Tuesday night?