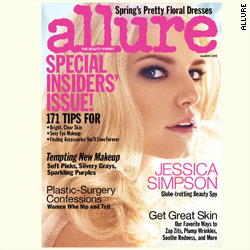 Even when she's tweeting about her boobs, Jessica Simpson never tries to be anyone other than herself.
"I'm vulnerable in any moment," the singer and actress told Allure magazine, after announcing that she'd just burped.  "I don't care if the cameras are on or not, you're going to get the real me. There's no reason to mask that, because that's what's given me the chance to be in a powerful position."
She may have started her career as a pop singer but Simpson has moved on to owning her own clothing, shoe and bag lines, as well as starring in a VH1 reality show that explores beauty standards the world over.
At the time of the interview, Simpson had just returned from taping eight episodes of "The Price of Real Beauty" in a variety of countries, including the United States, which she thinks has a "disgusting" obsession with weight.
After performing at a Florida chili cook-off in January 2009, Simpson was lambasted by the media for wearing double-belted, high-rise "mom" jeans that made Simpson look like she packed on a few.
"I would not wish that on my own worst enemy what I went through," she told Allure. The hype over her supposed weight gain was so relentless that nowadays, people respond with surprise when they see her in person.
"When I walk through an airport and people go, 'you're not fat!' I'm like, 'Thanks,' " Simpson said. " 'That's great. Good to know I'm not fat today. Thank you!' "
Besides, Simpson said, she hasn't built a career on being thin.
"My job is to be creative," she told Allure. "And I'm not weighing in for anybody."
Simpson also isn't taking off her clothes for anyone either.
While the actress does want to transition from doing films like "Blonde Ambition" and "Dukes of Hazzard" to something with more meat and edge, filming a nude scene is not in the equation.
"I will never do nudity. I don't care how dark and intellectual the role could be," she said. "I don't care if I get a frickin' Oscar for it, I'm not going to do it...I don't think people deserve to see what's underneath my clothing. That's only for my next husband!"