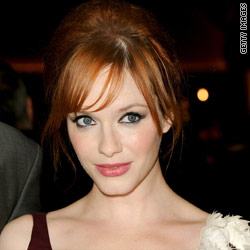 When it comes to "Mad Men" actress Christina Hendricks, the conversation inevitably turns to the 34-year-old's curves, and she recently told New York Magazine that it, well, embarrasses her a bit.
"It kind of hurt my feelings at first," she said in New York's Spring Fashion 2010 issue.
"Anytime someone talks about your figure constantly, you get nervous, you get really self-conscious," Hendricks explained. "I was working my butt off on the show, and then all anyone was talking about was my body!"
The talk escalated in January when the New York Times ran a quote from a stylist who called Hendricks "big," which perhaps by Hollywood standards she is.
"It might sound silly, but I didn't realize I was so different. I was just oblivious. Sometimes I would go on an audition and someone would say something like, 'Girl, you're refreshing!' That was it," she said.
Regardless of whether or not she's truly an entertainment anomaly, Hendricks would appreciate it if the conversation could turn away from her cup size and focus more on her acting.
"It just leaves a bad taste in my mouth," she said. "Back when I was modeling, if someone said 'I'm fasting,' I would say, 'Can't we talk about something else?"