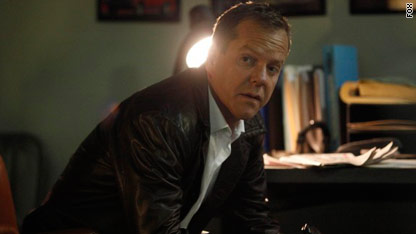 Greetings Bauerites. Another episode is now in the books, and it seems we are finally getting back to some good old-fashioned "24" action.
But before we give any credit to the show for some flashes of brilliance, let's briefly discuss the first 20 minutes, which seemed eerily similar to "watching paint dry."
That's right. You heard me. In a word, it was dull, painful and flat-out boring in that opening span. Ok, that was actually five words, but I had to get it out.
Maybe it was the lethal combination of Hastings, Dana, Kevin, and President Hassan's brother getting way too much time at the beginning of the show. Of course, a "24" trademark is to constantly switch story lines, but when you make me rove between these "hate-ables" for more than 10 minutes, I seemed to lie motionless without muttering a word the entire time.
We know how we all feel about Dana and Kevin, so I won't rehash that disdain again this week, but something tells me that plot has thickened to the point of being an endangered species on the show. I give Kevin and his goon/buddy (who only began speaking recently) two more hours - tops. Now that Cole has caught wind of what is going on (thanks Arlo!), look for these two rocket scientists to either turn up missing (my vote), or end up in some sort of "custody."
Also, I think the show is rendering President Taylor moot at this point, and she seems to be an afterthought. She's not really a spicy personality, and adds NO flavor to the show at all. Her "keep me apprised of the situation" lines are getting a bit stale. Yeah Ms. Prez, we know to keep you "looped in."
Yet the last 40 minutes of this week's episode were chock full of the stuff that makes us love "24." While I knew Jack would escape from his torture chamber, I wasn't exactly sure how he would single-handedly kill his captors. His crafty, silent annihilations never disappoint, and this one was no exception. I especially liked what appeared to be some sort of leg-lock Jack did on a bad guy that put the bad guy to bed - permanently.
Once things got going at that point, even the familiar "Jack-gets-tortured-then-escapes-and-kills-everyone" formula was fun to watch. The pace picked up quite a bit and tension was high.
That old familiar fatigue set in right as the previews for next week were being shown. I was spent.
I think things are on track for more good stories-within-the-story next week. Loved, kinda liked or hated this week's episode? Let us know!