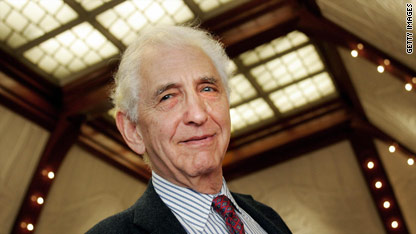 testing captions
Stars are dining on Oscar's tab today, at the annual Luncheon for Academy Award nominees in Beverly Hills.
Sandra Bullock's here, looking lovely as can be. Also lunching are Carey Mulligan, Meryl Streep, Jeff Bridges, George Clooney, Colin Firth, Woody Harrelson, Vera Farmiga, Quentin Tarantino and James Cameron, among many others.
One of the most controversial people here isn't a nominee, but a guest. Daniel Ellsberg, the subject of the Best Documentary nominee "The Most Dangerous Man in America", joined the Oscar-nominated co-directors of the film, Judith Ehrlich and Rick Goldsmith. If you're old enough, you'll remember he's the man who famously leaked the Pentagon Papers in 1971, making him possibly the most important whistleblower in American history.
The Papers seriously undermined claims by the Johnson and Nixon administrations that the Vietnam War was progressing well and victory over North Vietnam was achievable. A furious Pres. Nixon personally ordered a campaign to discredit Ellsberg.
Ellsberg stopped by our poolside camera position at the Beverly Hilton for an interview before having lunch. At age 78 he's looking great, although apparently he's a bit hard of hearing (he wore a couple of hearing aids). CNN's Brooke Anderson, co-host of Showbiz Tonight, had a great chat with him about being thrust into the Oscar race. Look for details on their conversation in the coming days on CNN and CNN.com.
I wonder if anyone bugged him for an autograph?