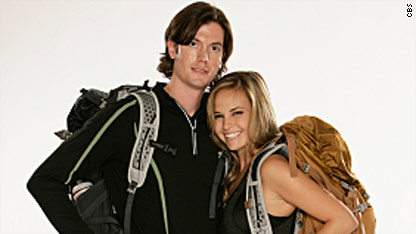 After giving a less-than-articulate answer to a question about geography in the 2007 Miss Teen USA pageant ("I personally believe that U.S. Americans are unable to do so because some people out there in our nation don't have maps"), of course, Caite Upton would end up on the 16th season of the globe-spanning "Amazing Race."
The season premiere on Sunday looked very promising for the season ahead, with some pretty fierce competitors and colorful characters early on, despite some major missteps by a few of the teams. Some early quick takes:
Brent and Caite: No doubt the former Miss Teen South Carolina feels like she has a lot to prove, and first place appeared to belong to her and her model boyfriend... until they skipped a funicular they were required to take as part of the race, incurring a 30-minute penalty. Look for them to stick around for the long run, but it remains to be seen if they'll get much fan support.
Jeff and Jordan: Here we have the epitome of fan support, by far the two most popular houseguests from "Big Brother" last season (and Jordan the winner). However, it was Jordan, not Caite, who had a few geography problems, confusing Chile for China more than once - not too surprising as she confessed on "Big Brother" that she didn't know how to tell time on a clock. Despite this, the pair came in first this week, so they shouldn't be underestimated (though their prize, a chance to try out the sport of skeleton at the Whistler Sliding Centre, was a case of unfortunate timing).
Carol and Brandy: This couple had a take-no-prisoners attitude in the first hours of the race (Brandy's prayer of mechanical failure on another plane was answered), but so far their performance on the challenges isn't too impressive - Brandy was a nervous wreck walking across cables 120 feet above ground.
Jet and Cord: These two likable cowboys seemed done for, but through some missteps by other teams, they ended up in pretty good shape going into the second leg. But it will take more than luck to get to the end.
Jody and Shannon: Grandma Jody loves running triathlons, so she's certainly a force to be reckoned with, but she and her granddaughter need to pick up the pace.
Joe and Heidi: Joe all but promised that he was going to be this season's guy-who-spends-most-of-the-time-screaming-at-his-significant-other, but that hasn't happened yet. So far, there's not much remarkable about this couple.
Dan and Jordan: The other Jordan immediately recognized Caite from her beauty pageant days, but it's hard to tell if he wants to start an alliance with her team or take them out. This pair had a less than conspicuous start, with Dan falling off the cables and later receiving a 15-minute penalty for losing a paintbrush.
Louie and Michael: These two detectives basically jinxed themselves by predicting that they would win every leg of the race. On the first leg, they came in ninth.
Monique and Shawn: Thanks to Brent and Caite's mistake, the moms/attorneys had a great first leg, finishing in second. So far, so good for these two.
Steve and Allison: The baseball coach and daughter appeared to have all the makings of a solid team so far - that is, until they wandered into a private home during the painting challenge and started painting a room in the house, even asking one of the workers in the house for a clue, which wasn't forthcoming. Needless to say, they'll need to pay better attention to detail in the future.
Dana and Adrian: The married high school sweethearts had been through a lot together and had a wonderful personal story, but unfortunately the cable-walking roadblock was too much for Adrian, and after a couple of falls, they were the first eliminated without even making it to the mat.
So at this point, I wouldn't write off any of the teams... well, maybe Louie and Michael.
What do you think of the new season so far? Any early favorites? Share your thoughts on video, or in the comments below.