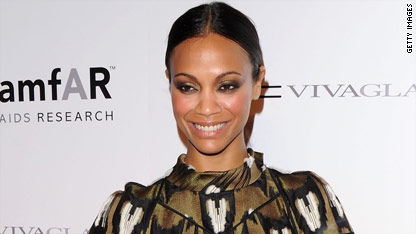 Upscale celebrity publication Vanity Fair started a series of comment wars a few weeks ago when word got around that their March "New Hollywood" issue didn't feature any actresses who weren't white or thin.
As Yahoo!'s fashion and beauty blog noted, the March issue cover featured 9 women: Abbie Cornish, Kristen Stewart, Carey Mulligan, Amanda Seyfried, Rebecca Hall, Mia Wasikowska, Emma Stone, Evan Rachel Wood, and Anna Kendrick. All of them are talented young actresses, many of whom made grand leaps forward in their careers in 2009.
But there were a few Hollywood "it" girls who were obviously missing from VF's issue, particularly "Precious" actress Gabourey Sidibe and "Avatar" star Zoe Saldana.
While blog commenters debated whether Vanity Fair was right or wrong to not have a more diverse picture of who's hot in young Hollywood, Zoe Saldana told Access Hollywood that she thinks people are focusing on the wrong thing.
"We can spend a lot of time bashing our beautiful country, but we don't give it enough credit," Saldana said. "Our pace might be a little slow, and it might not be on par to how we as civilians would like it to be, but it's still an amazing country."
In Saldana's view, magazines like Vanity Fair and Vogue will eventually become portraits of diversity, much in the same way the Oval Office has become more racially and ethnically inclusive as of late. "It's just a matter of time before magazines, the media, our art, our culture, our colloquial lifestyle tags along to our reality," she said.
Saldana, who is of Dominican descent, said that if you come from another country - or at least travel widely - you understand that the U.S. isn't so bad.
"I'm a first-generation American, and I know what it's like to feel very, very proud – my family is from the Dominican Republic, from the Caribbean, and I feel very proud to be from the Caribbean - but as an American I was also taught by my mother who's an immigrant to be very grateful to this country," she said.
"It's no different than when you have a dysfunctional family," Saldana went on. "It may be dysfunctional, but it's still your family, and America is still ours."