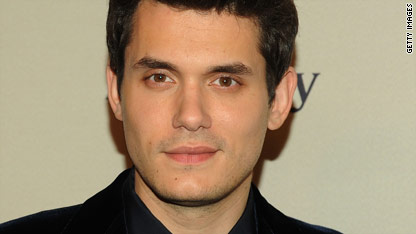 Last night was probably one of the lowest for musician John Mayer, and Twitter was there for him as he got some of his feelings off his chest.
After he tweeted a series of apologetic statements for his now infamous Playboy interview, Mayer started responding to a few of the comments that had his name high up on the trending topic list well into the night.
Twitter user CRHines17 - bio: awesome - tweeted to Mayer an offering of support Wednesday.
"We're all human," he wrote, "everyone makes mistakes," to which Mayer responded, "True. But some mistakes are hard to pinpoint because they happen slowly and over long periods of time..."
Actress Holly Robinson Peete - whom Mayer referred to in the interview as one of the black women he would date  in spite of his "white supremacist" genitals as he's always found her to be gorgeous - saw more flattery than malice in Mayer's controversial remarks.
She tweeted Wednesday evening, "Well y'all ...not just [because] he shot this old momma some love but I think [the] Mayer is 'racist' reaction is kinda over the top, no?" Because of the amount of attention her response yielded, Peete even wrote a blog post about the escalating attention Mayer's words have attracted.
Mayer's use of the "N" word is "the biggest no-no of them all and coupled with the White Supremacist 'privates' comments it dawns hard on me that by gushing in public about a compliment by one of my fave artists in this article filled with offenses I look like I am giving him some sort of 'free pass' just cause he said I was cute," Peete wrote.
She added, "I seriously do not believe John Mayer is a racist. It's such a strong word and there are real life hard core racists in this country who really deserve to wear that hat– especially these days...Though his judgment is askew, his filters are dysfunctional and at times he sounded almost certifiable, he isn't a racist."
Mayer hasn't responded to Peete's support, but he did have something to say last night to Twitter user Adilla.
Adilla tweeted Wednesday evening that he was "just waiting for @johncmayer to follow up his apology with an announcement that he's going to rehab. I mean, it kinda worked for Tiger, no?"
Unfortunately for Mayer, as he himself noted on his reply to the user, "They don't make rehab centers for being an a-hole."
While performing in Nashville, Tennessee, Mayer kept the apologies coming, pausing in the middle of a song to extend his remorse to his band mates, according to Us Weekly.
"In the quest to be clever," he began, "I completely forgot about the people that I love and that love me."
After choking up during his apology, he ended by saying, "It's just not worth being clever ... I quit the media game. I'm out. I'm done. I just want to play my guitar."
And with that came Mayer's final, tweeted statement of regret.
"I just wanted to play the guitar for people," he wrote. "Everything else just sort of popped up and I improvised, and kept doubling down on it..."
His Twitter account has been a wall of silence ever since.