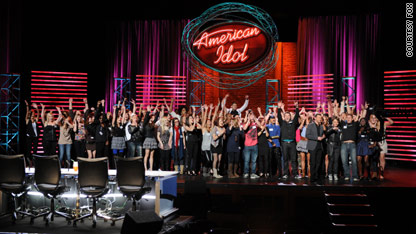 testing captions
I don't know about you, but Group Night on "Idol" always exhausts me.
I understand that the purpose is to test the work ethic and ability of the singers to be able to pull off a good performance using talent and team work, but really it always just feels like it's testing who can go without sleep and not crack.
That being said, Wednesday night's "Idol" had me thanks to the Neopolitan versus Destiny's Wild rivalry. Both groups sang Lady Gaga's "Bad Romance" and watching the treachery of them trying to out do one another reminded me of my all-girl high school days.
I could have done with out so much of the "Big Mike" back story of his wife giving birth to their first child, though a friend who glories in the hyperbole likened it to the symbolism of the aspiring "Idol" giving birth to his destiny. Whatevs.
Much more moving to me was Mark Labriola tearfully begging for another chance because he's ineligible to try out again next year. So sad, but it reinforced the number one rule when it comes to Group Night on "Idol" – you cannot trade sleep for practice and think you are going to make it through.
I also learned that practically no one knows all of the words to Gwen Stefani's "The Sweet Escape." Watching the contestants try to fake their way through those lyrics was painful, yes?