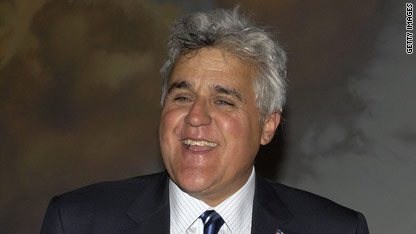 Last night was the end of "The Jay Leno Show," and Leno didn't go out with quite the bang his former coworker Conan O'Brien did.
As he did during the Late Night Wars of 2010, Leno ran through a few jokes right off the top addressing the disastrous situation the NBC rescheduling has caused, before moving on to other, more important things - like the Winter Olympics.
Here's a transcript:
"Where were you the last five months? That's what I want to know.
This is our last 'Jay Leno Show,' Kev. The show was supposed to last two years. But my sentence was reduced to five months for good behavior.
We were on the air five months. It seems like just yesterday I was telling NBC, "This is not going to work."
People say, "What has changed the most in five months?" I'd have to say Heidi Montag.
Five months! Do you realize that guys on Viagra have had erections that lasted longer than that!
Be glad you are not back East. Huge snowstorm. In fact, the roads were so slick back East even people without Toyotas are having trouble stopping.
I don't think Washington has seen a snow-job like this since that last stimulus package.
It was so cold Nancy Pelosi had to sit in her driveway for ten minutes defrosting her eyeballs. That's how cold.
In fact, it was so cold Sarah Palin had to cancel a speech because she didn't want to take her gloves off to read. It was that cold.
With all this snow, President Obama told all non-essential White House employees they didn't have to come in. Actually, just Joe Biden.
See everyone knows President Obama… He is probably the hippest president we have ever had. Don't you think? Whether you agree [or] disagree with his policy… Watch how his level of hip-ness rubs off when he meets just an average businessman from Maryland. Watch when they shack hands. (Drop-in: Obama shakes hands the cool way.)
I went online last night and I watched a whole bunch of the Super Bowl commercials that I had missed. There were so many beer commercials, one after the other - beer ad, beer ad, beer ads… Then the next commercial is always one of those companies that can help you find a new job. Maybe if you weren't drinking so much beer you wouldn't be out looking for a new job. Ever think of that?
How about that commercial, I think it was for Dockers, with guys in their underwear singing, "I'm wearing no pants." I thought it was a new 'John Edwards for President' campaign. I was a little surprised.
How about "The Who" at halftime? Be honest, didn't you think they were going to eat a snickers bar, and turn into a younger group? Didn't you think that was going to happen?
Police in New Orleans issued a warning before the Saints' victory parade. They did not want to see any exposed breasts because it would hurt the city's image. Hurt the city's image? That is the city's image. That's why guys go there.
Over the next two weeks we're going to have the Winter Olympics here on NBC. They're doing something this year that is going to add a little more excitement. All the bobsleds are made by Toyota.
Let me ask you a question about the Olympics: If an Olympic figure skater falls on the ice really hard, and gets hurt… do you put ice on it? I'm trying to understand.
Did you ever notice that adding a little music can change the whole way things are perceived? One of the most exciting Olympic events is the luge. You ever see the luge where two guys go like 90 mph…so exciting. But you add a little music and the whole feel of the thing changes. Take a look. (Drop-in: luge with romantic music playing)
Officials in Atlanta say the bad economy has caused a surge in applications by women for stripper and lap dance licenses. The last thing you need is for guys to go out and get injured getting a lap dance from some unlicensed amateurs. You hate to see that happen.
Three cities here in California now have schools that teach people how to grow and distribute marijuana. We have that already, [they're] called "colleges."
Once again it's time for our "beer pong shot of the week." Take a look. (Drop-in: beer pong show…four balls into four different cups.)"