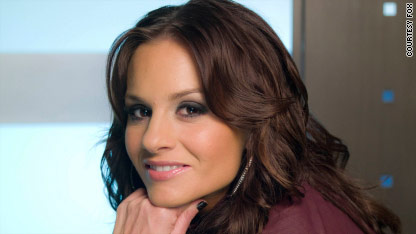 testing captions
Kara DioGuardi, you are a sly one!
I participated in a conference call on Wednesday with the "American Idol" judge and she was pretty guarded about the stuff I most wanted to know.
She declined to comment on the show without Paula saying, "I really don't want to speak about Paula's absence because you can't really compare Paula and Ellen, they're completely different and I think they both bring something valuable to the table."
And forget getting some scoop from her about rumors that Howard Stern is in the running to fill Simon Cowell's seat next season when the Brit departs.
"Right now that's a rumor and I don't really know if I can even speak on it," she said.
She did dish, just barely, on whether she thinks the shock jock would make a good judge.
"I don't think he has a musical background or any kind of music anything," she said. "I think that if you are going to replace Simon you've got to have that background. You have to be someone who knows about signing great artists and being a part of their career from the very beginning to the very end."
DioGuardi wouldn't even talk about reports that she and former "Idol" contestant Elliott Yamin are headed to the country of Angola in a few days as part of the "Idol Gives Back" charity initiative.
"I'm not at liberty to…talk about that," she said.
Last season's "fourth judge" also demurred on giving new judge Ellen DeGeneres a grade on her performance thus far.
DioGuardi would say, however, that she thinks DeGeneres is "great" and because of editing the audience hasn't had a chance yet to see the breadth of DeGeneres' ability.
"When I was sitting next to [DeGeneres] I felt she had a really good handle on whether a contestant had potential, whether they had star quality," DioGuardi said. "She knew if something was off in the vocals or in their performance and I thought she delivered the message with kindness, but also had criticism in there." According to the Nielsen ratings, the episode featuring DeGeneres' debut drew 27.7 million viewers.
DioGuardi did speak up about how she wouldn't mind seeing a woman win this season, given the success of female artists like Taylor Swift, Beyonce and Lady Gaga, and how she enjoyed watching contestants perform her music.
As for the burning question about why the judge's cups of Coke have been replaced this year by VitaminWater, she had only this theory: "I think they own Vitamin Water," she said laughing. "I assume that."