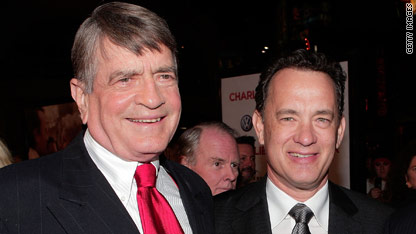 testing captions
Charlie Wilson, the flamboyant Texas congressman portrayed by Tom Hanks in the movie "Charlie Wilson's War," died today at the age of 76.  A statement from a Texas hospital said Wilson passed away after suffering from cardiopulmonary arrest; he'd had heart transplant surgery a few months before the film's premiere in late 2007.
Wilson earned the nickname "Good Time Charlie" for his love of alcohol, women and, well, other diversions.  But he was serious about driving the Soviet Union out of Afghanistan, and used his congressional power to ensure the U.S. properly armed the Afghan rebels fighting the Soviets.  George Crile wrote a book about the unlikely chain of events, which was made into the movie starring Hanks as Wilson, along with fellow Oscar winners Julia Roberts and Philip Seymour Hoffman.  In 2008, Wilson told CNN.com's Todd Leopold he was pleased with the film's portrayal of the period.
Wilson served 12 consecutive terms in the U.S. Congress, representing Texas' second district.  He is survived by his wife, Barbara.