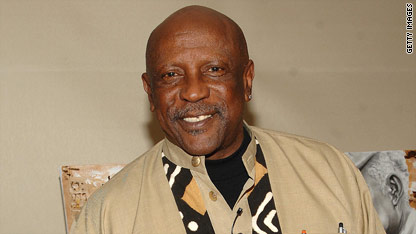 testing captions
Lou Gossett Jr. announced today he's in the early stages of prostate cancer. It gave me pause, because I had a chance to spend some time with him this past November.
Gossett was a guest at the taping of the CNN Heroes show at the Kodak Theater in Hollywood. Our unit in Los Angeles helped squire celebrities from their limos to their seats; we were essentially Hollywood herders. Because we are immersed in the world of celebrity, it's not often we are starstruck. It's a business, a job.
A couple of weeks before the show, I received a call on my cell: a Beverly Hills area code, and a number I didn't recognize. I generally do not give out my cell phone number, so I was curious.

"Hello, this is Jennifer."
"Jennifer, this is Lou Gossett Jr."
And yes it was. The man's voice is simply beautiful, and when you're used to dealing with the layers that surround a celebrity, you are always a little bit surprised when you find yourself dealing with a star directly. Gossett was such a delight. He had some concerns and wanted me to get the answers to some questions, so he gave me his home and cell numbers. When I called him back, he asked if I'd be escorting him from the limo drop-off through security and to his seat. I told him I'd be delighted, and I certainly was.
Lou Gossett Jr. is truly a gentleman. He's gracious, charming, funny, talented, and oh that voice. Helping him on the day of the show reminded me that not everyone who rises to the top of their game surrounds themselves with sycophants. Gossett adds class to his act. A few folks in this industry could certainly take a page from his book.
I wish him strength in his fight against prostate cancer.