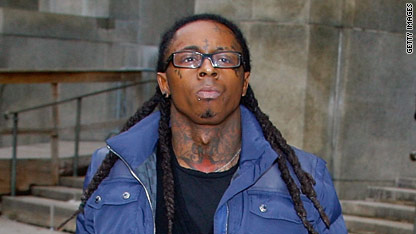 Rapper Lil Wayne was scheduled to be sentenced to a year-long prison term Tuesday, but the court session has been adjourned until March 2 due to dental work. The updates below are from CNN's Andrea Mineo, reporting from the courtroom.
2:42 p.m.: When asked about the adjournment, Lil Wayne's attorney, Stacey Richman, said she thinks the judge "made the proper health decision for Mr. Carter."
2:33 p.m.: When asked how Wayne is holding up, Richman told CNN that Wayne is "a strong man" with a "strong mind."
2:21 p.m.: The judge presiding over the case said, "Last adjournment are we clear?" Wayne must be ready on March 2 at 2:15 p.m. The adjournment is due to dental work he is having in Florida.
2:18 p.m.: Lil Wayne's sentencing has been adjourned until March 2.
2:15 p.m.: The District Attorney is possibly consenting to push back for dental work to heal, Mineo reports.
2:13 p.m.: His case is being called before the judge.
Update, 2:11 p.m.: With a few minutes to go, Lil Wayne has entered the building. He's sitting quietly with his head bowed, glasses on, behind his lawyer waiting for the judge to call the case.
Lil Wayne, whose real name is Dwayne Carter, was listed as No. 32 on a sheet of 54 defendants outside of the court room at the Manhattan Supreme Court. His sentencing was originally scheduled for Tuesday morning, and was postponed until 2:15 p.m. ET. Wayne, 27, was expected to start his prison term following the sentencing.
Early Tuesday, Wayne posted a video from his last night in the studio on UStream.
Wayne pleaded guilty to attempted criminal possession of a weapon in October 2009 on charges stemming from a July, 2007 arrest. Police found Wayne smoking marijuana with another man on a street corner and the officers found a .40 caliber pistol in his possession.
Stay tuned for more as the proceedings continue. For up-to-the minute updates on breaking entertainment news, follow @CNNShowbiz on Twitter.