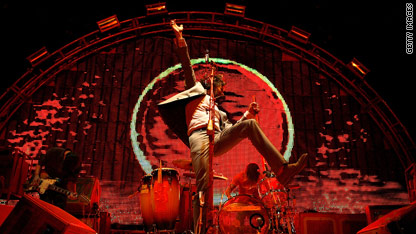 testing captions
In recent years, Bonnaroo - the Manchester, Tennessee, music, arts and let-it-all-hang-out festival - has welcomed Bruce Springsteen, Phish, Al Green, the White Stripes, Of Montreal, Kings of Leon, the Police, Metallica, Aimee Mann and B.B. King ... just to name a (very) few.
This year, the lineup will include Weezer, Jeff Beck, OK Go, John Fogerty, Norah Jones and the Flaming Lips - some veterans of the festival, others playing it for the first time.
Bonnaroo has been releasing its artist roster in dribs and drabs through Twitter, MySpace and its own Web page, with some artists confirming their participation independently. But as Rolling Stone observes, the slow release has allowed some artists - and non-artists, for that matter - who aren't playing the festival at all to tweet that they are performing.
The full lineup will be released Tuesday night. Tickets for the festival, set for June 10-13, are now on sale.
Update, 10:30 p.m. ET: Other acts playing this year's festival include the Dave Matthews Band, Stevie Wonder, Jay-Z, the Dead Weather, Jimmy Cliff, the Avett Brothers, Tori Amos, Steve Martin and the Steep Canyon Rangers, GWAR, the Melvins and They Might Be Giants, according to Bonnaroo's official site.