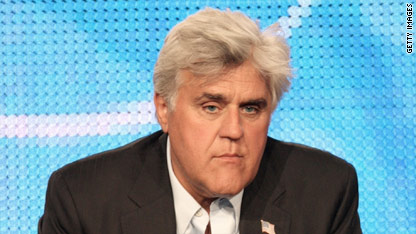 A few weeks after Conan O'Brien bid a star-studded farewell to the "Tonight Show" - complete with a performance from Neil Young - Jay Leno's time has also come.
Not to leave the network, mind you, just to close the curtain on NBC's failed prime-time experiment, "The Jay Leno Show," tonight at 10 p.m.
It's kind of like deja vu, but instead of handing off the mic to another comedian, Leno's going right back to where he started. "Leno" will soon be just a memory.
Leno's exit from "Tonight" included a segment that showed off how many times members of his staff reproduced. The end of "Leno" will have three guests for the 10 @ 10 part of the show. The host will be joined by "Precious" actress Gabourey Sidibe, Ashton Kutcher and NBC Sports' Bob Costas.
After tonight, NBC plans to air "Law and Order: SVU" at 10 p.m. Wednesday, followed by extra "The Office" love in the same time slot Thursday.
Leno will return to the Peacock Network on March 1 as the once and future host of the "Tonight Show."