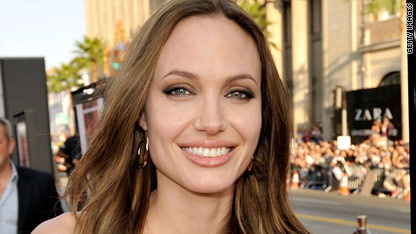 Angelina Jolie has already donated $1 million to Doctors Without Borders for Haitian earthquake relief, and now the actress is planning a visit to the devastated nation as a goodwill ambassador with the UN's refugee agency.
Jolie was in the Dominican Republic Monday speaking with hospitalized earthquake survivors, and will travel to Haiti later today, UNHCR spokesperson Andrej Mahecic said.
Details of Jolie's trip can't be disclosed for security reasons, but it's expected that she will spend her time meeting with more people affected by earthquake.
Jolie has visited a number of countries with the UNHCR, including Iraq, Thailand, Pakistan, Namibia, Sierra Leone and Ecuador.
She told National Geographic in 2003 that she became an ambassador because she realized that for the amount of time she spends traveling, there was still a lot about those nations she didn't understand.
"There were many things I hadn't been taught in school and daily global events I was not hearing about in the news," Jolie said in the interview. "So I wanted to understand...When I read about the 20 million people under the care of UNHCR I wanted to understand how in this day and age that many people could be displaced."