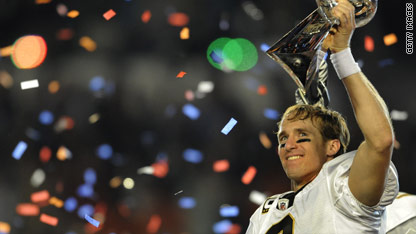 testing captions
Move over, "M*A*S*H" finale. You've finally been surpassed.
According to Nielsen ratings estimates published in Hollywood trade publications, Sunday's Super Bowl XLIV - in which the New Orleans Saints beat the Indianapolis Colts 31-17 - now holds the record for viewership. The event was watched by 106.5 million viewers, slightly more than the famed 1983 "Goodbye, Farewell and Amen" conclusion to "M*A*S*H," which was watched by 105.97 million.
Yes, the usual caveats apply. The United States is a more populous nation than it was 27 years ago, and thus there are more TV viewers. But there are also more TV outlets - the fabled 500-plus channels - which means the Super Bowl crushed a lot more competitors than "M*A*S*H" (or the "Dallas" "Who Shot J.R." episode or the end of "Roots") did.
See what other broadcasts have made history
Even more startling were the ratings from individual cities. According to Nielsen, 82 percent of TV-watching households in New Orleans were watching the game; the figure was 80 percent in Indianapolis. Washington, Nashville and Columbus, Ohio, all topped 70 percent.
(Speaking as a person who grew up in New Orleans, and who received regular updates on how Saints-crazy the city had gone, I have to wonder - what were the other 18 percent watching in the Crescent City?)
CBS has to be happy. Not only did the big game do tremendously well, but apparently 38.6 million watched "Undercover Boss" after the contest. Not a bad night for the Eye.