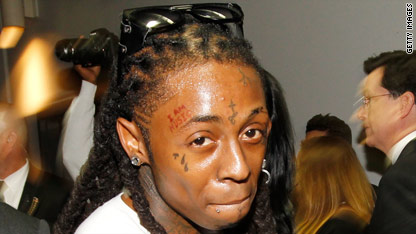 On Tuesday morning rapper Lil Wayne will formally be sentenced to a year-long prison term for gun possession in the Manhattan Supreme Court, CNN has learned.
Although the exact time of sentencing is unknown, it's also likely that Wayne, whose real name is Dwayne Carter, will start his prison term Tuesday as well.
This sentence has been a long time coming for Wayne, who pleaded guilty to felony gun charges in October 2009 stemming from a July 2007 arrest. Police said Carter and another man were smoking marijuana on a New York City street. The officers also found a .40-caliber pistol in Carter's possession.
Up until his sentencing, Wayne has been working on his next album, "Tha Carter IV," and he told Rolling Stone in an interview that he doesn't plan to stop working while he's in prison.
To date, Wayne has sold millions of albums - "Tha Carter III" alone sold a million within its first week - since his solo debut, "Tha Block is Hot," in 1999.