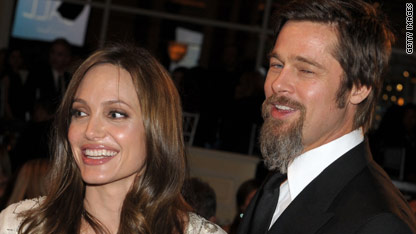 It seems that nearly every tabloid in the supermarket checkout line is proclaiming the end of Angelina Jolie and Brad Pitt's relationship.
But for a newspaper in London, printing alleged misstatements about Jolie and Pitt has landed them in hot water.
The actors and parents of six have started proceedings against News Group Newspapers Limited after the News of the World printed some alleged rumors about the Hollywood couple.
According to a statement provided by the couple's attorney in the U.K., the News of the World reported on January 24 that "Angelina Jolie and/or Brad Pitt visited a divorce lawyer in December 2009 to begin thrashing out a deal." The newspaper, according to attorney Keith Schilling, stated that "an agreement has been concluded between them dividing joint assets of £205m and providing for custody and visitation rights in relation to their children."
Sorrell Trope of Trope and Trope has been identified in some reports as the couple's Los Angeles divorce attorney, but Trope said in the statement that he has had no contact with the couple.
Schilling added that "The News of the World has failed to meet our clients' reasonable demands for a retraction of and apology for these false and intrusive allegations which have now been widely republished by mainstream news outlets."
A claim form was issued today in the High Court of Justice in London. The matter is being treated as a serious misuse of private information.