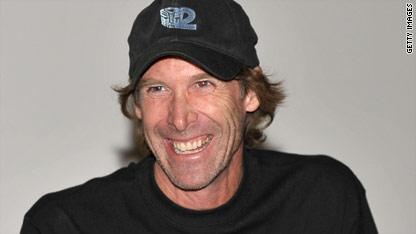 The director of the raz-tastic action film "Transformers: Revenge of the Fallen," Michael Bay, earned more money than both Steven Spielberg and James Cameron in 2009.
Bay netted $125 million in the past year, which put him in the number one spot on Vanity Fair's list of the top 40 Hollywood earners of 2009.
Executive producer of "Transformers" as well as "The Lovely Bones" Steven Spielberg landed in second place with $85 million, followed by "2012's" Roland Emmerich ($70 million,) "Avatar's" James Cameron ($50 million) and "The Hangover's" Todd Phillips ($44 million).
To do the math, Vanity Fair used sources that had access to real numbers, like agents, studio executives, lawyers and on occasion, the stars themselves. Vanity Fair's list is limited to "creative figures—producers, directors, stars—in film," according to a press release.
The top ten Hollywood earners were men, but there are a few young women on the list, including Emma Watson of the "Harry Potter" franchise.
Watson, who earned $30 million in 2009, made more money than industry veterans Sarah Jessica Parker ($24 million) and Cameron Diaz ($27 million), as well as "Twilight" star Kristen Stewart ($16 million).
Below are the top 40 earners for 2009. For analysis and a breakdown of the numbers, visit VanityFair.com. The March issue will be on newsstands Tuesday, February 9.
1. Michael Bay, producer-director ($125 million)
2. Steven Spielberg, producer-director ($85 million)
3. Roland Emmerich, producer-director ($70 million)
4. James Cameron, producer-director ($50 million)
5. Todd Phillips, director ($44 million)
6. Daniel Radcliffe, actor ($41 million)
7. Ben Stiller, actor ($40 million)
8. Tom Hanks, actor ($36 million)
9. J. J. Abrams, producer-director ($36 million)
10. Jerry Bruckheimer, producer ($35.5 million)
11. Tyler Perry, actor-director-producer ($32.5 million)
12. Adam Sandler, actor-producer ($31.5 million)
13. Denzel Washington, actor ($31 million)
14. Emma Watson, actor ($30 million)
15. Rupert Grint, actor ($30 million)
16. Owen Wilson, actor ($29 million)
17. Nicolas Cage, actor ($28 million)
18. Russell Crowe, actor ($28 million)
19. Cameron Diaz, actor ($27 million)
20. Brian Grazer, producer, and Ron Howard, director-producer ($25.5 million)
21. Johnny Depp, actor ($25 million)
22. Steve Carell, actor ($25 million)
23. Robert De Niro, actor ($24.5 million)
24. Sarah Jessica Parker, actor ($24 million)
25. Katherine Heigl, actor ($24 million)
26. Shawn Levy, director-producer ($23 million)
27. Oren Peli and Jason Blum, writer-director-producers ($22.5 million)
28. Robert Downey Jr., actor ($22 million)
29. George Clooney, actor ($22 million)
30. Matt Damon, actor ($22 million)
31. Reese Witherspoon, actor ($21 million)
32. Angelina Jolie, actor ($21 million)
33. Jennifer Aniston, actor ($20 million)
34. Sandra Bullock, actor ($20 million)
35. Robert Pattinson, actor ($18 million)
36. Clint Eastwood, actor-director-producer ($17 million)
37. Kristen Stewart, actor ($16 million)
38. Mark Wahlberg, actor ($16 million)
39. Shia LaBeouf, actor ($15 million)
40. Brad Pitt, actor ($13.5 million)