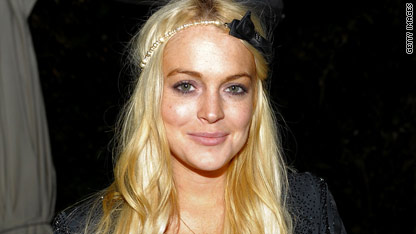 If A&E ever did a show about celebrity hoarders, Lindsay Lohan could surely be on the first episode.
"The Insider's" Niecy Nash, who also hosts the Style Network's "Clean House," paid a visit to Lohan's home and it appears that Lohan indeed has a problem.
"I'm here because I heard you've got a whole lot of mayhem and a whole lot of foolishness," Nash said.
Lohan told Nash, "I have a lot of clothing - I think that's the biggest problem; I have a lot of stuff."
Nash asked Lohan to reveal her "stuff," and that's when the scary music began as the camera panned to show boxes upon boxes upon boxes of shoes, rack after rack of dresses, and then more clothes collected in piles and boxes on the floor.
The actress/fashion designer/leggings aficionado has not one, but two rooms full of shoe boxes and piles of clothing. At least she's meticulous about the shoe store she's recreated in her home: each shoe box is labeled with a photo of its contents.
"I try not to come in here - that's how bad it is. I only...need shoes," Lohan said. "The craziest thing is that I know every single thing that I have." Yet when Nash tested Lohan's "photographic memory," she claimed she simply hadn't gone through that box of clothes yet.
Lohan blames the hoarding on her constant jet-setting.
"It's hard because when you are traveling you pack one suitcase and you don't realize if you are getting new things or you forget what you have," she said. "So, I think that has kind of been the biggest issue."
Nash, however, doesn't believe Lohan is a hoarder and can see potential for Lohan to clean up her act. Her home, Nash said, simply reflects her life: "chaotic, disorganized and in excess of everything crowding her world."