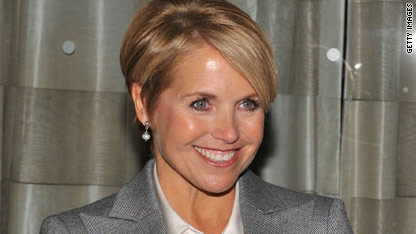 Katie Couric, anchor of CBS's "Evening News," has gone glam for the March issue of fashion magazine Harper's Bazaar.
With her hair swept back and wearing more black eyeliner than a member of an emo band, the 52-year-old sits behind her desk at CBS in frighteningly tall platform sandals and a form-fitting, one-shoulder dress.
Harper's Bazaar interviewed Couric just days before she was to face off against anchor competition Diane Sawyer on ABC, and Couric appeared to be calm.
"I don't know whether it's that I've gotten older or more mature, but some of the brouhaha just seems so silly to me," she said in the interview.
Couric also led Harper's Bazaar through the realities of being a woman in network news - "With the job I have, it's much easier to pick apart what a woman is wearing" - as well as what it's like to be a single mother. She admits that, at times, she "profoundly" misses having a partner. Her husband, attorney and NBC News legal analyst Jay Monahan, died almost 12 years ago of colon cancer.
For the past three years, Couric has built a relationship with eco-preneur Brooks Perlin, who's never been married, doesn't have kids and is 17 years her junior.
The age difference doesn't matter to Couric, who dismisses the cougar label as "silly."
"I think it also surmises that the older woman is always the pursuer," she said. "That's not necessarily true. I always say that maybe the older woman is the prey and someone else is the predator. It's just silly."