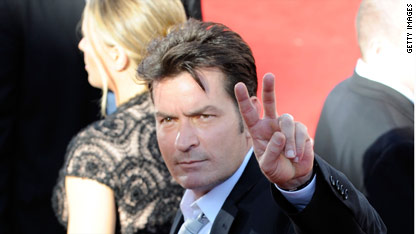 testing captions
Charlie Sheen got a rude awakening this morning when he discovered that his Mercedes Sedan had been stolen from his home. Things only got worse when the vehicle was found in a ravine.
LAPD Officer Wendy Reyes confirmed to CNN that "the vehicle found on a hillside below Mulholland Drive belongs to Charlie Sheen." Reyes added, "The vehicle was reported stolen by the actor.... They did not find anyone in or near the vehicle." Mulholland Drive is known for its sharp turns and winding roads.
The Los Angeles Fire Department tells CNN that "a cell phone caller told CHP that a vehicle had went over the side around 4:30 a.m." Sheen's representative tells CNN that "Charlie is fine, and the police are investigating."
Sheen is due in court on Monday in Aspen, Colorado for a hearing in the Christmas Day incident involving Sheen and his wife, Brooke Mueller. Sheen was arrested on charges of felony second-degree assault, felony menacing and a misdemeanor charge of criminal mischief. A protective order was also issued in the case.