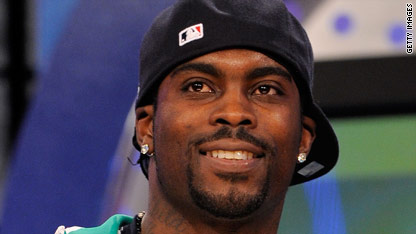 testing captions
Football player Michael Vick's attempt at redemption appears to be drawing mixed reviews.
"The Michael Vick Project" premiered on BET Tuesday night. According to the network, the premiere and an encore presentation of the episode drew 2.8 million viewers.
The 10 part docu-series traces the athlete's life after serving time in jail on dog fighting charges.
Now playing for the Philadelphia Eagles, Vick used the first episode to explain what led to his fall from grace and a multi-million dollar career that included major endorsements. Vick says dog fighting was something he was exposed to as a child growing up poor in Newport News, Virginia.
"I really took to it," Vick says during the show. "I was intrigued by it. I gravitated to it."
Viewers took to the web to express both their support and their disgust about Vick, who pled guilty to running a dog fighting ring on his estate in Virginia.
Commenting on a blog about the show on EW.com, reader dee dee wrote "piece of crap; he has no business in the NFL. Even lawyers have professional standards. Let him rot."
Over on the Atlanta Journal-Constitution site, a commenter going by the name "Vick Supporter" wrote: "Let it go people…the man has lost 10 times more than we could ever dream of and his name is ruined forever. I'm glad he has a chance to at least re-do some things in his life."