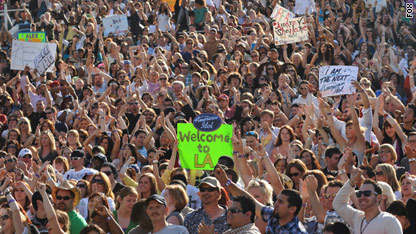 testing captions
Seven cities. Over 100,000 aspiring contestants. And it all boils down to this.
This is American Idol!
Now that I am done with my Seacrest imitation I can say that I have never been more ready for the show to make it to Hollywood.
Wednesday night's show was basically a round up of the auditions. I liked what I saw in some of the performers including Lee Dewyze who sang "Ain't No Sunshine." Slap some glasses on that dude and he is last season's Danny Gokey part deux.
I was amused by Amanda Schectman's Britney Spears impersonation (she should take that on the road) and I admired Lacey Brown's restraint in not punching out the judges for sending through the hot mess that was Megan Joy over her last season. Glad to see Brown gets another shot, though I'm not sure her voice is strong enough or distinctive enough to go all the way.
Wednesday night also featured the song stylings of Michael Lynche who reportedly made it to the Top 24 and was booted after his dad blabbed about it to the local media. Fox has declined to comment on the report and I wonder how that will all shake out.
Next week will also mark the addition of Ellen DeGeneres as a judge. That, coupled with the talent that you just know the producers have been holding back, should make for an interesting Hollywood week, don't you think?