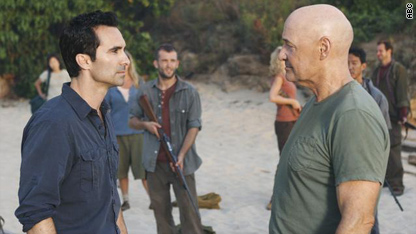 Nestor Carbonell Terry O'Quinn of ABC's 'Lost'
[Editor's Note: You know the drill by now. If you haven't seen this episode of "Lost" yet, DON'T READ ANY FURTHER.]
Well, we were promised answers to five seasons worth of mysteries of "Lost," and Tuesday night's season premiere gave us that - with a heaping helping of more questions to come with it. Yes, this is the same old "Lost," and just like every season premiere there's always at least one big reveal that will make you channel Hurley and say, "Dude."
First and foremost, we now know what happened after a dying Juliet set off a bomb after "the incident"... sort of. The castaways were all sent back into the present day, with what was left of the hatch after Desmond blew it up. Both Sayid and Juliet were still dying. I'm not sure if it quite worked for Sawyer to find Juliet in her last moments after they already shared such a memorable goodbye last season. Juliet (through ghost whisperer Miles) did give us the first of two statements that will continue to leave "Lost" fans' heads scratching: "It worked."
What worked exactly? Well, you see, the plane never crashed. And the island is under water. That would be the "big reveal," and boy was it a stunner. It was pretty remarkable to see what would have happened had the plane not crashed, especially Jack meeting Desmond and Locke prematurely (and just as soon losing track of Desmond - unstuck in time again?). And fascinating to see Hurley explaining that he's extremely lucky - after all, if there was no hatch, there were no numbers to "curse" Hurley.
Meanwhile, the Man in Black, having taken the form of John Locke has used Ben to kill Jacob, who just before dying made another key statement, "They're coming."
Could "they" be the denizens of the temple, which we finally see after the ghost of Jacob tells Hurley to take Sayid there? When they learned that Jacob was dead, it was time to batten down the hatches, while Sayid woke up asking what happened. Great question.
Some quick thoughts:
– So that's what happened to flight attendant Cindy and the kids: They're living in the temple, and they appear to have adapted well over the years.
– Well, the smoke monster mystery is finally solved: It's the Man in Black, who has taken various forms of dead people, and that currently includes Locke. How terribly sad to hear that Locke really is dead and gone, and the Man in Black didn't think too highly of him, nor of Richard Alpert, whom he knocked out and dragged away once he left the statue. He's also not a big fan of ashes, either.
– Where is Christian Shepard's coffin in this new plane crash-less reality? Last we saw him, he was supposedly filling in for Jacob, buddy-ing up with... his daughter Claire, whom we finally saw briefly making an unwitting getaway with fugitive Kate.
– Oh, and how is it that they're on the island in the present, yet the plane didn't crash and the island was underwater in 2004? My best guess: the bomb split the space-time continuum into two pieces.
That's plenty of theories from me for now. Let's hear yours! Did this season premiere deliver enough answers for you? Share your thoughts on video or in the comments below, and check out what iReporters had to say about it here and here.