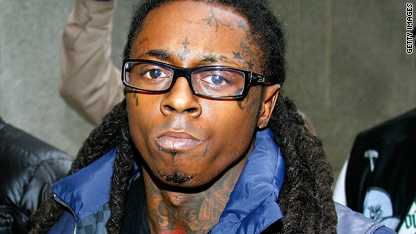 On February 9, one of the most prolific (and ubiquitous) rappers in the industry today will disappear for an entire year, which may or may not leave a Lil Wayne-sized hole on the Billboard Hot 100.
Wayne is notorious for his nonstop recording, and he doesn't plan on letting the 12 month prison sentence for gun possession slow him down.
"I don't like to stop," the rapper told Rolling Stone in an interview chronicling the rapper's last days before heading off-the-grid. "I believe you stop when you die."
For Wayne, that means continuing to do what he does on any other day: appear in a few music videos and craft new recordings for "Tha Carter IV" - which his label is referring to as "C4" because "it'll be the bomb," Cash Money Records employees told Rolling Stone - and is expected to explode shortly after Wayne's release.
His label is even picking up and moving to New York to be closer to Wayne while he does his time at Rikers Island. As he'll be out of sight for such a long time, his manager told RS that he's brainstorming ways to make sure Wayne isn't also out of mind, like setting up a Twitter account so Wayne can tweet on the inside.
It's not like he won't already be wired: Wayne said in the interview that he'll be equipped with an iPod so he can keep working on tracks for "Tha Carter IV" while he's locked up.
"This is Lil Wayne going to jail. Nobody I can talk to can tell me what that's like," he told RS. "I just say I'm looking forward to it."