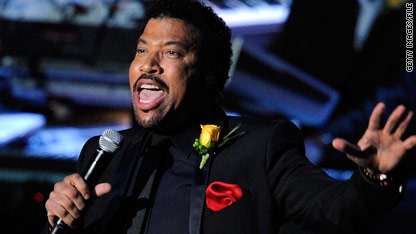 testing captions
Normally, Celine Dion's vocals are controlled and crystal clear. But Lionel Richie was in the booth, coaxing her to rough it up a bit and let her emotions soar.
"Well, well, well, WELL!" she belted out, remaking the iconic line sung by Cyndi Lauper in the original version of "We Are the World" in 1985.
Dion and 80 other artists - including Barbra Streisand, Lil Wayne, Kanye West, Tony Bennett, the Jonas Brothers and actor Vince Vaughn - had gathered after the Grammys at the request of Quincy Jones and Lionel Richie to record an updated version of the anthem. The location was Studio A at The Jim Henson Studios in Los Angeles, site of the first recording session.
Proceeds from "We Are the World - 25 for Haiti" will benefit victims of the earthquake that left more than 100,000 people dead and countless homeless on January 12.
The 2010 remake opens with 15-year-old heartthrob Justin Bieber singing the line Richie crooned in 1985, "There comes a time when we heed a certain call, when the world must come together as one."
"Nobody knew which part they were going to perform," said Dion.
Lil Wayne - best known for his skills as a rapper - was assigned the part recorded by Bob Dylan in the original. Did he sing it better than Dylan? "Hell, no!" he exclaimed.
At one point during the evening, singer Melanie Fiona took off her shoes, leaning on Musiq Soulchild in the process. That prompted Dion to burst into a spontaneous version of "Lean on Me," with everyone joining in. "It was rockin'," reported Verdine White of Earth, Wind and Fire.
There was lots of picture-taking, and phone numbers were liberally exchanged.
"I think we're all groupies," admitted R&B singer Anthony Hamilton. "I think even Tony Bennett had a handheld - 'Oh my God, it's Lil Wayne!' "
"We Are the World," 2010 edition, adds what Jones calls a "Greek rap chorus" written by Will.i.am. One of today's most in-demand producers, Red One, was brought in to put a contemporary spin on the original arrangement. Richie - who penned the original song with Michael Jackson - re-worked a few of the lyrics.
Even technology was updated, with 3-D cameras documenting the process for a video directed by Oscar-winning filmmaker Paul Haggis ("Crash," "Million Dollar Baby"). And during the recording of the group chorus, two people dressed in green bodysuits embedded themselves in crowd near Streisand and the Jo Bros. They were "green screen" placeholders, which will enable people at home to later insert themselves or their friends into the video via their home computers.
Tuesday, Janet Jackson was expected to add her voice from a remote studio in Atlanta.
Josh Groban - who sang the part Kenny Rogers had in the original - summed up Monday night's event.
"Everyone left their egos at the door," he said, repeating a line associated with the original. "I think our hearts have all broken for Haiti, and we understand they are a country that desperately needs our help."