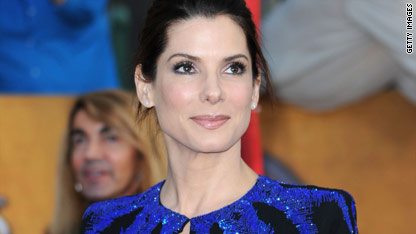 The reactions to Tuesday morning's Academy Awards nominations keep pouring in. Here are more statements from nominees, as told to CNN:
Best actress nominee Sandra Bullock, "The Blind Side":
"Who would have thought after all these years that I would be experiencing this moment now . . . I certainly didn't. But I am honored beyond words to experience this journey with John Lee Hancock and Gil Netter, and to continue this astounding ride with the extraordinary women I share this category with. My time with them these past few months has meant more than anything to me."
Best supporting actor nominee Christopher Plummer, "The Last Station": "I am very pleased and honored to be up there with those other four terrific actors. I liked the little movie."
Best animated feature, best original screenplay and best picture nominee director/writer Pete Docter and producer Jonas Rivera, "Up":
"We are humbled and grateful to the Academy. Being nominated among these remarkable animated films is such an amazing privilege. On top of that, to be honored as one of the best pictures of the year is just mind-blowing. It's truly been a long, wonderful ride getting here, and with all sincerity it really does feel like we're floating on air."
Best original screenplay nominee Mark Boal, "The Hurt Locker":
"I'm extremely grateful to Kathryn Bigelow for believing in this script when it was safer to believe in unicorns, and thankful to the actors for elevating it and making it sing, and last but not least Nicolas Chartier for putting his money up."
Best picture nominee producers Broderick Johnson and Andrew Kosove, "The Blind Side":
"We are so grateful to the Academy for this staggering honor. We want to thank John Lee Hancock for writing and directing a wonderful film that has been the pleasure of our careers to produce; to Sandra Bullock, who brought the character so fully to life, and to our producing partners Gil Netter and Molly Smith."