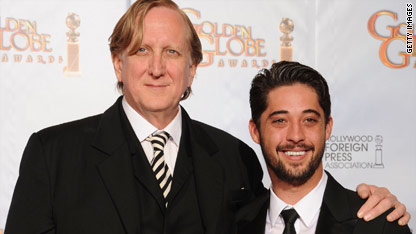 testing captions
Ryan Bingham isn't done with his collaboration with T Bone Burnett, which has already proved fruitful.
The up-and-coming country-rock star and the legendary singer-songwriter were recognized for their work with the Academy Award nomination of "The Weary Kind (Theme from 'Crazy Heart')," from "Crazy Heart," for best original song.
Bingham said he is working on his album now with Burnett, who supervised the music in "Crazy Heart" and co-wrote "The Weary Kind" with Bingham. (Burnett, of course, is a legendary music producer who has a shelf full of Grammys for such albums as the "O Brother, Where Art Thou?" soundtrack and Robert Plant and Alison Krauss' "Raising Sand." He also has a previous Oscar nomination, for the "Cold Mountain" song "Scarlet Tide.")
"I've got most of the songs already written and I'm sure T Bone will come up with some more tunes and we will go from there," Bingham said.
The singer sounded awed and still slightly in shock when he spoke with CNN about his nomination, his first. The whole experience has been a bit surreal for him, Bingham said.
"It's kind of strange to get nominated for an Oscar and not be an actor," he said, laughing.
Not that it was completely unexpected. The theme won a Golden Globe for best original song.
So has Bingham readied his acceptance speech in the event that lightning strikes twice?
"No I haven't, but I guess I should get on that, just in case," he said.