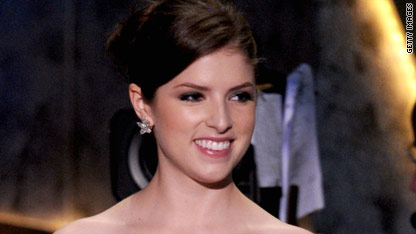 Anna Kendrick didn't know she was nominated for her best supporting actress for her role in "Up in the Air" until her roommate sent her text message on her phone.
"I didn't want to watch the live feed and just be sitting around and feeling awkward, so I got up at 5 a.m. and went running so I could be by myself. I was alone in the dark, listening to music," Kendrick told CNN in a phone interview.
"It [was] really perfect and it allowed me to have a moment, so it was just for me."
This is Kendrick's third nomination this season for her role alongside George Clooney; she was also nominated for Golden Globe and SAG awards. "If I understood what got people nominations, I would be selling a book about it. I got really lucky working with the people I did," she said.
"Up in the Air" is nominated for six awards total, including best actor in a leading role (George Clooney), best director (Jason Reitman), best adapted screenplay (Jason Reitman and Sheldon Turner), best picture and a second best supporting actress nomination for Vera Farmiga.
On the six nominations, Kendrick said "Up in the Air" is "an incredible film [with an] incredible director, Jason Reitman."