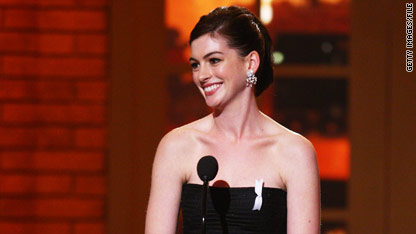 testing captions
8:50 a.m. Thanks for hanging out guys! Be sure to check out our list of nominees here.
Best picture [10 of 'em!]:
"Avatar"
"The Blind Side"
"District 9"
"An Education"
"The Hurt Locker"
"Inglourious Basterds"
"Precious"
"A Serious Man"
"Up"
"Up in the Air"

Best animated feature:
"Coraline"
"Fantastic Mr. Fox"
"Princess and the Frog"
"Secret of Kells"
"Up"

Best actor:
Jeff Bridges, "Crazy Heart"
George Clooney, "Up in the Air"
Colin Firth, "A Single Man"
Morgan Freeman, "Invictus"
Jeremy Renner, "The Hurt Locker"
Best actress:
Carey Mulligan, "An Education
Gabourey Sidibe, "Precious"
Meryl Streep, "Julie and Julia"
Helen Mirren, "The Last Station"
Sandra Bullock, "The Blind Side"
Best director:
Quentin Tarantino, "Inglourious Basterds"
Lee Daniels, "Precious"
Jason Reitman, "Up in the Air"
Kathryn Bigelow, "The Hurt Locker"
James Cameron, "Avatar"
Best supporting actress
Penelope Cruz, Nine
Vera Farmiga, "Up in the Air"
Maggie Gyllenhal "Crazy Heart"
Anna Kendrick "Up in the Air"
Mo'Nique, "Precious"
Best supporting actor
Matt Damon, "Invictus"
Woody Harrelson, "The Messenger"
Christopher Plummer, "The Last Station"
Stanley Tucci, "The Lovely Bones"
Christoph Waltz, "Inglourious Basterds"
8:39a.m. Anne is looking quite dapper - love the white jacket.
8:38 a.m. Music! Drama! Tom Sherak!
8:37 a.m. One minute to air, guys. The Academy is nothing if not punctual.
8:31 a.m. Oh. Just a sound check. Excuse my excitement.
8:30 a.m. Someone takes the stage! We're live people!
8:27 a.m. Anne Hathaway will be our mistress of ceremonies this morning, joining Academy President Tom Sherak to roll through 10 of the 24 categories. Hathaway and Sherak are only designated four to seven minutes to break down who's up for the Oscar, so this will go fast. Still no sign of Hathaway yet.
8:20 a.m.: We've got less than 20 minutes to go until the nominees for the 82nd annual Academy Awards are announced live. Thus far, it's still pretty dark on the set with a bunch of scraggly, hopefully caffeinated members of the press milling about. Keep in mind, it's just past 5 a.m. on the West coast. Stay tuned for more updates!
For continuing coverage of the Academy Awards and other breaking entertainment news, follow @CNNShowbiz on Twitter.