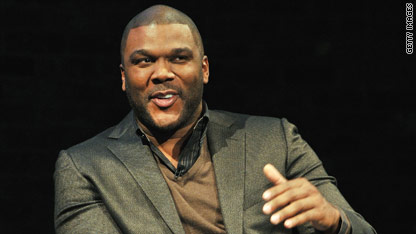 testing captions
To a list of honorees that includes Al Gore, Aretha Franklin, Bono, Danny Glover and President Barack Obama, add Tyler Perry. The filmmaker has been selected to receive the NAACP Chairman's Award during the 41st NAACP Image Awards.
"Tyler Perry is a tremendous inspiration to people on many levels," NAACP Board Chairman Julian Bond said in a statement. "His remarkable life experiences, which inform his extraordinary body of work in film, television and stage, have also shaped his focus on significant charitable causes and civil-rights initiatives."
Perry is known for a host of successful films, including "Diary of a Mad Black Woman," "Madea Goes to Jail," "Why Did I Get Married" and "I Can Do Bad All by Myself." He also produces two TV shows, "Tyler Perry's House of Payne" and "Meet the Browns." (The shows air on TBS, which - like CNN - is a unit of Time Warner.)
In 2008, Perry opened Tyler Perry Studios, a 200,000-square-foot production facility in Atlanta. He is the first African-American to launch his own major film and television studio facility.
Perry, who was raised in poverty, hasn't forgotten where he came from. He remains involved in civil rights cases and helping the homeless. His donations include $1 million to the NAACP and $1 million (from the Tyler Perry Foundation) towards Haiti earthquake victims.
The 41st NAACP Image Awards will be broadcast live from Los Angeles' Shrine Auditorium on Friday, February 26. The show, which will begin at 8 p.m. ET, will air on Fox.