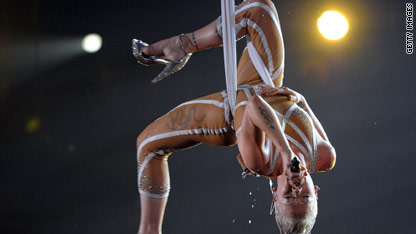 testing captions
When it came to grabbing a hold of the audience at the Grammy Awards, singer Pink was way above the other performers.
Attendees seemed stunned by the swirling, singing, water sprinkler that was Pink.
Cirque de Soleil had nothing on the singer who repeated her aerial routine from this year's MTV Video Music Awards – minus the pasties. This time around, the bad-to-the-bone singer wailed in perfect pitch after switching out her Brigette Nielsen-type hooded outfit for a harness that suspended her above the Grammy crowd.
She swooped, she swirled, she got dipped in water which she then sprayed all over everyone.
So what did you think? Did you dig Pink's acrobatic, aerial moves? Or was there another moment from the show that you loved?