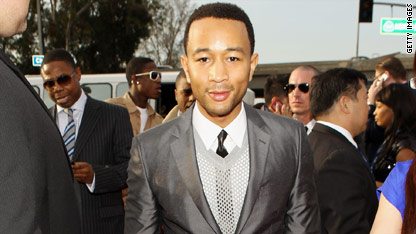 testing captions
Singer John Legend was a great fan of the performances at the Grammy Awards.
The R & B crooner said he absolutely loved Grammy winner Beyonce's performance and enjoyed duet by Sir Elton John and Lady GaGa.
He also said he thinks singer Pink, whose performance spinning atop the audience garnered a standing ovation, is "kind of underrated" as an artist and he found her performance great.
Legend, who said he'll be performing at the White House in February in honor of Black History Month, put the kibosh on a rumor out there that he will be appearing in a movie about the late, legendary soul singer Marvin Gaye. Ditto for any talk that he is participating in the remake of "We Are the World."
But while he's not connected with either of those projects, Legend said he had a great time playing with The Roots during a pre-Grammy party and is now he working on an album with the group.