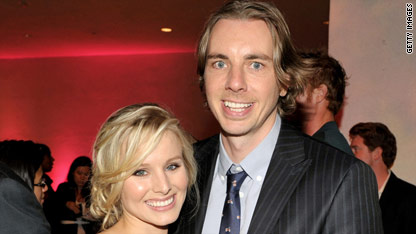 testing captions
Kristen Bell knows a little something about how romantic Italy can be.
The "When in Rome" star got engaged over the holidays to her co-star, Dax Shepard, her rep confirmed to CNN.
Bell, who found fame as the title character in the television series "Veronica Mars," plays Beth, a young woman unlucky in relationships who steals some coins from a fountain of love and finds herself the object of several men's affections. Shepard plays Gale, one of Beth's suitors  in the romantic comedy.
Bell didn't have to resort to any magic to snag Shepard, best known for his comedic roles. The pair have reportedly been an item for two years and live together.