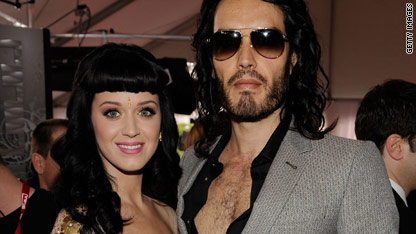 Newly engaged stars Katy Perry and Russell Brand made a pit stop by E! on the red carpet to do a little wedding planning and explain how their engagement came about.
"I did it really politely," Brand assured Ryan Seacrest. "There was an elephant involved. We were in India and it was at midnight, and it's not a good idea to be on an elephant when there are fireworks, Ryan."
The couple appeared to be undecided on what date the wedding will be - Brand seems to think they've set a date, but Perry said no one told her about it - but they did agree that Seacrest, "the High Priestess of Celebrity Culture," should officiate.
The theme also looks like it will be rainbow-colored.
"We're thinking of doing a gay wedding," Brand said. Well ... Perry did sing about kissing a girl and liking it - no doubt that single will be spun for the couple's first dance.