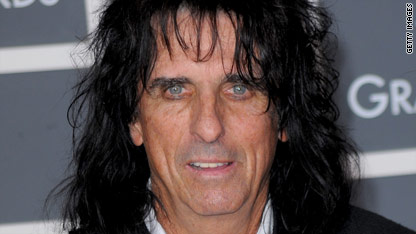 Alice Cooper told CNN backstage that he thought tonight's show has been amazing.
He loved Pink's performance, whom he introduced with Katy Perry. "I watched Pink tonight and thought, 'Would I do that?' She stole the show. The only way I would do that was if I was on fire."
And then, about the fame monster, Cooper said "Lady GaGa is fearless and she has got the voice to back it up. She'll have an arsenal of hits in five years for sure."
Cooper advises up-and-coming artists to embrace sobriety - the industry has changed he said, and "it's simply not glamorous anymore to be falling down drunk on stage. That was back in old days."
Besides, he added, "[you] can't be a true artist if you're going to do drugs; nobody will hire you if you do. You simply can't depend on musicians using drugs to do tour dates."